Lessons of history
In 1974, an energy and wages-price blowout helped destroy the Whitlam government's managerial credibility. Ross, a teenager at the time, would become a protege of union leader Bill Kelty, who negotiated modest wage rises that helped the Hawke government reduce inflation to negligible levels in the 1980s. Labor's economic management kept it in power 13 years.
This history is why some experts believe Ross will defy the union movement's request for 5.5 per cent increases for award-paid workers. Ross, they argue, will protect the Labor government from the self-destructive instincts of the labor movement.
"The panel, of course, is going to have to think carefully about the potential impact on inflation because, not to consider that would be irresponsible," says Andrew Stewart, an industrial relations lawyer at the University of Adelaide.
"They are not an irresponsible group. I can't recall any occasion since 1994 when the wage panel or its predecessors were confronted with a really significant spike in inflation."
Promises from opposition
The new government came to power promising to raise wages above inflation – one of the left's central demands under the Morrison government. But a wages breakout now would damage the Albanian's government reputation in financial markets, making it more look Whitlam-prone than Hawke-competent.
Those familiar with the process say Ross will try to reach a consensus among the seven commissioners.
At least one person stands in his way: Mark Wooden, a Melbourne University economist who doesn't accept the conventional wisdom that the minimum wage provides desperately important protection for the working poor.
Wooden was installed as a part-time member of the commission in 2020 by former industrial relations minister Christian Porter as a kind of stay-behind guerilla in case the Coalition lost power, which of course it did.
In a dissent to the same decision two years ago, Wooden cited data that only 2 per cent of regular workers received the minimum wage. It kept few people out of poverty, he argued, and most of those earning it worked part-time, which suggested they had other sources of income – such as husbands and wives.
The economic significance of the minimum wage decision is not the level of minimum wages, but all wages determined by awards, from kitchen hands to airline pilots, which are linked to it.
If Wooden is concerned Ross may prolong what might otherwise be a temporary bout of inflation, he might refuse to accept the majority's decision.
"He will be major player in terms of his influence," says a lawyer with direct knowledge of how the commission reaches decisions. "He will be grappling with this as an economist."
government advice
The commission doesn't have to implement the federal government's recommendation, but can't ignore it, either.
Despite Employment and Workplace Relations Minister Tony Burke's verbal endorsement of a 5.1 per cent pay rise, the Labor government's formal recommendation doesn't advise which inflation measure should be used to ensure "the real wages of Australia's low-paid workers do not go backwards" .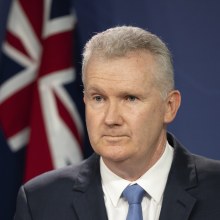 A version of inflation known as the "trimmed mean", which excludes the largest and smallest price changes, was 3.7 per cent in the year ended March 31.
Ross has options that can make the increase appear larger than it is. He could, for instance, order a 5 per cent rise in the minimum wage, which would be about $40 a week, and apply the same increase in dollars terms, across all awards.
Known as a "flat money increase", this would have little effect on most workers.
Or he could delay increases for some industries, on the basis they're still suffering the pandemic's commercial effects.
old rivals
Although he hasn't gone as far as business wants in the past, Ross has shown some flexibility. In 2017 he introduced modest changes to penalty rates designed to boost employment of people who work in shops, and serve food and drinks.
One of the vociferous critics of the decision was Labor's then industrial relations spokesman, Brendan O'Connor, whose brother Michael O'Connor is a union secretary. Brendan O'Connor suggested Parliament overrule Ross.
At the time, Ross was defended by another Labor veteran, former resources minister Martin Ferguson, who accused O'Connor of "slapping the president of Fair Work Australia, a former leading ACTU official, in the face".
As prime minister, Albanian has chosen not to give O'Connor the industrial relations portfolio. Ferguson is now a part-time Coalition-appointed member of the Fair Work Commission – and one of the people deciding the minimum wage.